Membership Matters
Featured Article, June 2023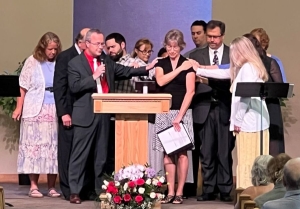 "Piedmont Park dedicated Tammy Adams as its Faith Community Nurse. It is the first ministry of its kind at Piedmont," says Hugh Davis. "The North American Division Health Ministries department describes Faith Community Nurses as trained nurses who serve a church or congregation to improve the health of its members. Faith Community Nursing, previously Parish Nursing, is a growing specialty recognized by the American Nurses Association. As Piedmont's FCN, her role will consist of health advocacy, educator, counselor, referral agent, volunteer facilitator, and coordinator. Tammy wants to help members focus on their health from a faith-based perspective and will work collaboratively with the Piedmont pastoral team. She won't do this alone; she will partner with other health professionals in the faith community, the pastoral team, and a health and wellness committee team. The North American Division Health Ministries department will provide mentoring and education or continuing medical education credit opportunities.
At the dedication, pastor Michael shared, "It is exciting to see new ministries begin. We are grateful that Tammy humbly and confidently answered the call that God has placed on her life. She has been trained and learned how to conduct this ministry. Now we pray that the Lord guide her, give her ideas that are needed to help it flourish, and be a blessing to the members here and maybe even other churches and congregations."
Tammy has a servant's heart, demonstrated when she and her family cared for Virginia Myers, a senior member of the Piedmont congregation, for some years. Before this position, Tammy was the Union College campus nurse, retiring in 2021. Tammy graduated from Union College with her BSN in May 1989, and passed her RN licensure in June one month later," says Hugh.