The goal of the Adventist Association of Health and Wellness Coaching (AAHWC) is to foster the training and growth of every member of the Seventh-day Adventist Church in health ministry, or medical missionary work, through the skills of providing on-going personal support to others.  In doing so, we can more effectively share hope and wholeness to individuals wherever they are on their personal health journey, and in whatever may be our area of influence.  The AAHWC promotes this by connecting together individuals who share this same passion and providing them with opportunities for personal and professional growth.
The AAHWC is for all Seventh-day Adventists who are interested or involved in the practice of coaching, either as a Certified Coach or Health Partner.  We also welcome members who are interested in learning  the skills of health and wellness coaching or promoting the work of this ministry.
Our prayer is that as church members develop and implement the skills of providing on-going personal support to others, we can more closely reflect the character of Christ, thereby hastening His return.
Charter Membership
Learn how you can be part of the formation of this exciting new organization.
January 2021 Online Training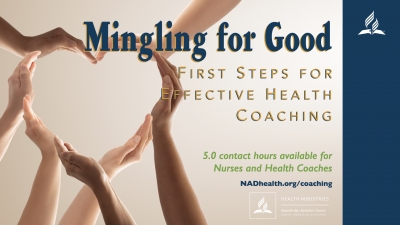 Our first health coaching training event is planned for January 24 & 31, 2021!  This will be done via Zoom and will include 6 hours of instruction.  Contact hours/continuing education is available for nurses and NBHWC coaches.
Update
We are very excited to report that as of October 15, 2020 the NAD Administration has voted to support the further development of the AAHWC.  Stay tuned to learn more as we move towards bringing together resources, events, trainings, and ministry opportunities.
Subscribe to our email newsletter to stay up to date.