Continuing Education
AAFCN provides online, live webinars, offering contact hours accredited by the American Nurses Credentialing Center.  Webinars are recorded and archived for access by AAFCN Members and Friends. Log in to view past webinars or sign up to join the Association!
You can also sign up to our email newsletter to be informed of future webinars.
Webinar Objectives
Provide up-to-date research and practice guidelines for the FCN
Stimulate conversation and thought on FCN best practices
Review current trends and identify needs in health ministry
Share experiences and successful strategies for ministry at the church
Encourage shared knowledge growth
Upcoming Webinar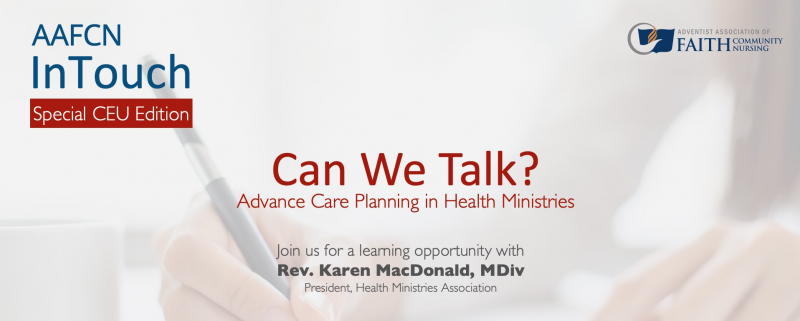 Date:  Thursday, June 25, 2020
Time:  7:00 – 8:30 pm, Eastern
Presenter:  Rev. Karen MacDonald, MDiv, President of Health Ministries Association
Topic:  Advanced Directives
Many of us believe that the local church is an ideal environment in which to receive education and support on the important topic of advanced planning. Perhaps you have seen or even experienced families struggle as they have entered into conversations with medical professionals and have been presented with tough choices as loved ones face serious and life-limiting illnesses. Faith Community Nurses can be a source of support and education no matter where families are in this spectrum.
Pre-registration is required.  Click here to register and you will receive an email with information on how to join the meeting.
Pre-Webinar Worksheets
Please complete the following BEFORE the webinar on June 25.
Play Go Wish

Be prepared to share your results during the webinar