Jocelyn White
Nurse Spotlight, September 2023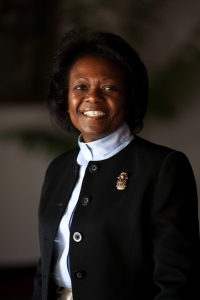 Interview with Betsy Johnson, FCN, Emmanuel-Brinklow Seventh-day Adventist Church
Please tell us about your being led you into your current role.
Initially, I was clueless about the specialty practice of Faith Community Nursing (FCN). However, many years ago Bernice DeShay, a nurse and member of our congregation, asked me and another nurse if we would be interested in taking the Foundations course in Parish Nursing, the former title of Faith Community Nursing. She was teaching at Washington Adventist University, was one of the instructors and instrumental in bringing the course to this area. Mainly because of my respect and love for her, I agreed.
My pastor also approached me. After an interview he asked me if I was interested in pursuing this education. At that time the local hospital was offering to partner with surrounding churches to provide 50% of the tuition cost for nurses who enrolled in the course. I remember saying to my pastor, "If you invest in me, I promise to bring what I learn back and invest in the church." Bernice was a wonderful mentor for me and continues to be so. We currently have 2 active FCNs at the Emmanuel-Brinklow church where I attend.
Please describe the uniqueness of this practice.
This is an opportunity to carve out a ministry that is based on assessed needs and measurable outcomes with a spiritual component. For me personally, this means that I would first seek God's counsel, pray for them knowing that only God can help them make any meaningful changes. As a FCN, I have the privilege of walking alongside the clergy, members and community I serve and letting God shine.
What are some of the joys that have come to you through this specialty practice in your church?
I have many but to list just a few, one is ministering to my pastor. At my initial FCN visit with him the first thing he said to me was, "Don't mess with my food!" We both laughed, I agreed and we've had a wonderful partnership working to help members move from high risk to normal risk categories and stabilize their health. It is a joy to partner in ministry with others and see positive outcomes in their lives.
Another joy is the privilege of being a preceptor to nursing students through a local school of nursing. During the height of the pandemic a student in a doctoral program contacted me after her instructor specifically referred her to a practicing FCN to fulfill her requirements for the community health portion of the curriculum. The student got my name from someone who worked at a soup kitchen and knew about me because of my role in the church's participation there.
Joy comes in large measure from new mother/baby visits. I connect with the mom prior to birth and continue to be available to her so she can call if she has concerns. I provide some teaching, give them information on local resources and help facilitate scheduling a baby dedication as they desire.
Last year I had the privilege of working with a gifted team of nurses to conduct and publish the results of a research project involving the FCN practice during COVID. To be involved in this effort is over and above what I would have envisioned when I first accepted this call.
It is such a joy working with our seniors. One example is member who was widowed. She contacted me asking for help to complete her plans for end of life. She told me she had already prepaid for a burial plan. However, I discovered that her husband had served in the military and I knew there was the possibility of her being eligible for some financial assistance from the government. Through advocacy I was able to help her get thousands of dollars refunded and reroute her plan to receive this benefit.
Please tell us about any challenges you have had to face as you have served as an FCN.
The biggest challenge that comes to mind for me is people not knowing about the valuable contribution that an FCN can make. Our story needs to be told.
What would you say to a nurse who might be considering this specialty calling?
If you become a FCN, you will make a measurable difference not only in your own life but in the lives of those you serve.
My personal testimony is that I have grown spiritually. My prayer life is richer. I'm praying all the time and searching the Word to find wisdom in my conversations with others.
Physically, I am boosting my own immune system. I have my own health challenges but simply watching people's lives become better, it becomes a win-win. Doing good is good!!
Consult God first. Make Him your full time partner. Do your homework and research the specialty. Visit the NAD website as well as the Westberg website.  Look at the many opportunities. It's more than doing. It's touching lives. Talk to another FCN. Call me!