Living Free
Finding Freedom from Habits that Hurt
Habits are our friends – when they're good ones.  But when bad habits develop, whether they involve food, substances, or behaviors – they can hijack your life.  Discover how this multi-faceted resource can be utilized online, one-on-one, integrated with other health programs, or as a stand-alone series for your community.
Meet Our Presenter
Vicki Griffin, MS, MPA
Vicki is the author and producer of the Balanced Living, Quit Nicotine, Lifestyle Matters Health Intervention Series and the Fit & free! Building Brain and Body Health Series. She is the Director of Health Ministries for the Michigan Conference of Seventh-day Adventists; and the Editor of Balance magazine and Balanced Living tract series. Vicki lectures and travels worldwide sharing the lifestyle link to better mental, physical, and spiritual health. Her special area of interest and research is the relationship between diet, lifestyle, stress mechanisms, and brain health.
Review the Resources
Living Free! Finding Freedom from Habits that Hurt.  The roots of addiction are deep and tangled, and they evolve over time. What does it take to heal a brain ravaged by stress, broken by bad habits and negative thinking, and the assault of spiritual and environmental forces?  Discover powerful tools for renewal, restoration, and recovery in a world full of crises and confusion.
Session 1:  The Addicted and Learning Brain. Addictions are about broken connections—in the brain, with each other, with life principles, and with God. A look at the big picture and the even bigger promises and plan.
Session 2:  Freedom Keys. It's one thing to achieve freedom—it's another to maintain it over time. Discover practical, powerful principles for getting and staying free. Be inspired by amazing success stories—against all odds.
Session 3:  Your External Environment: Lifestyle.  When it comes to building a better brain, body, and life, lifestyle matters.  Quick fixes and gimmicks will not heal a broken brain or help you win the battle against bad habits. Discover what works!
Session 4:  Your Internal Environment: Attitude. Attitude, social networks, lifestyle, and spiritual renewal are woven together to create the mental mettle to confront obstacles. There is hope for the harried!
Session 5:  Connections and Situational Awareness. In your quest for freedom, situational awareness is key. We explore what it is, and how to strengthen it.
Session 6:  Habits that Last. It's one thing to achieve a goal, it's another to maintain it over time. Learn the difference between "outcome" versus "identity" based change. Tools for a new life that lasts!
Explore More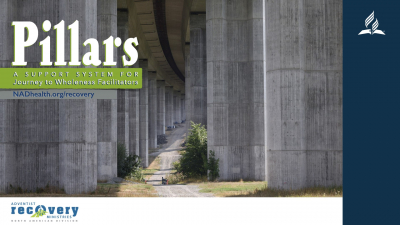 Visit the Pillars resources page for more informative and practical webinars on addictions, addiction recovery, and the Christ-centered Journey to Wholeness program of recovery.