AAFCN InTouch
Isolation, loneliness, and burnout are risks we all have.  Whether during crisis situations, such as the COVID-19 pandemic, or simply as a part of the circle of life.  AAFCN is here to support YOU, our Members and Friends through all these times.
We invite you to join us by staying InTouch through video conferencing.
Upcoming Meeting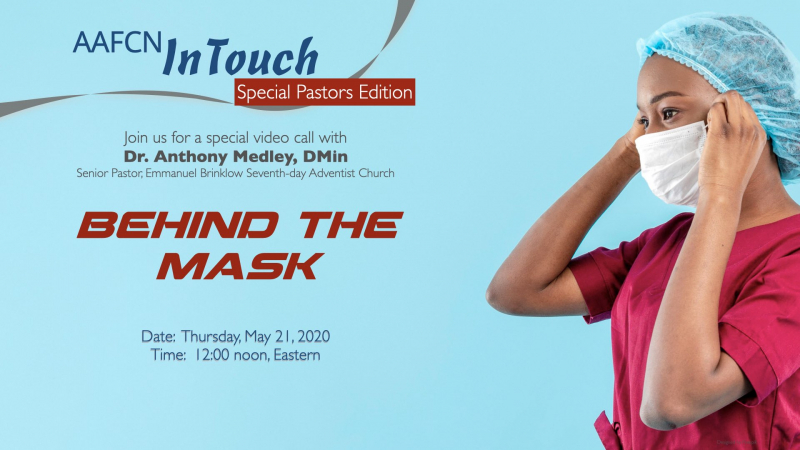 Date:  Thursday, May 21, 2020
Time:  12:00 noon Eastern
Facilitator:  Dr. Anthony Medley, DMin, Senior Pastor of Emmanuel Brinklow Seventh-day Adventist Church
Topic:  The current health crisis is revealing the true character of our frontline responders.  The spotlight shining on the courage of nurses is appropriate but nothing new.  The nurse behind the mask has always been a warrior of compassion, courage and strength.  This devotional message is to celebrate and courage the heart of nurses behind the mask.
Pre-registration is required to attend this special Pastors Edition.  Please click here to register.
Note: These meetings are for AAFCN Members and Friends only.  Please renew or join today.  We also invite your pastor to join us for this special edition of InTouch.
Join the Call
Register in advance for this meeting by clicking here.  After registering, you will receive a confirmation email containing information about joining the meeting.
Archives
View archives of InTouch meetings.  These are viewable only by current AAFCN Members & Friends unless otherwise indicated.
May 21, 2020 – Special Pastors Edition
(Open to all)