Physical Activity Miles Goal
Individual Resources 
Anyone interested in improving their fitness and health is welcome to join.  We hope adults, students, and whole families will participate together and that you will invite friends, neighbors and coworkers to join you on this journey to better fitness and health.  Emphasis is on becoming physically active and accumulating miles through walking or other activities, like biking, swimming, running, and active sports. Getting started is easy, and consists of three simple steps:
Get a pedometer.

  With the help of an inexpensive pedometer you can track your physical activity.  Pedometers give you immediate feedback on how active, or inactive, you are. They are great motivators and help you track daily progress.  Research shows that people who use a pedometer naturally walk more than those without one.  

Adventists InStep for Life pedometers

 are available on this site or you may purchase a pedometer at a local sporting goods store.  On average, 2000 steps is equivalent to one mile.  If you don't have a pedometer, you can also keep track of minutes of activity.  A conversion chart is available on the 

printable reporting log

.
Start walking.  The average person is probably already walking one to two miles over the course of a day.  The goal is to gradually increase your daily physical activity so that you are walking the equivalent of four to five miles a day or progressing to more vigorous and intense physical activity such as jogging, swimming, biking, as tolerated.
Log your physical activity miles.  

You are more likely to succeed in increasing your fitness level if you see your progress over time.  

Download

the printable 13-week 

Physical Activity Log

 and submit your totals to your local 

Adventists InStep for Life 

Coordinator.  As you accumulate miles, not only will you improve your health, but you will also be eligible for 

active lifestyle awards.
Other Resources for Participants: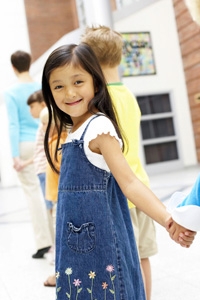 Coordinator Resources
Churches and schools possess a number of unique resources and abilities that make them ideal for fostering physical activity.  First, there is a built-in social support network for individuals, couples, families and friends to come together and work toward the common goal of incorporating physical activity into daily life.  Also, these institutions often have the open space or tools available to host activities, making them a perfect setting for the Adventists InStep for Life initiative.
The material in this website is provided for educational and informational purposes only and is not intended as medical advice. It should not be used to diagnose or treat any illness, metabolic disorder, disease or health problem. Always consult your physician or health care provider before beginning any nutrition or exercise program. Use of the programs, advice and information contained in this website is at the sole choice and risk of the reader.