02/18/2023
Mental Wellness Sabbath
Join us for our first Health Emphasis Sabbath of the new year 2023. We begin with Mental wellness. The sermon and other items will be based on a topic that many of us, unfortunately, are becoming more and more aware of-suicide. Come and utilize the wonderful resources we have on suicide prevention for this special emphasis Sabbath by world renowned speaker/director of It is Written: John Bradshaw. This need is necessary, Please join us.
11/12/2022
Recovery Sabbath 2022
We are launching a NEW yearly Sabbath focus on addiction recovery.  As we understand the recovery process, we come to appreciate more beautifully the process of God's work in our lives.
Title: The Church's Ministry to an Addicted Nation
Scripture Reading: Romans 7:18-20
Sermon points:
We are all addicted to something
Definitions of Addiction
Types of Addiction
Addiction and Trauma
The Healing of Addiction and Trauma
More details and resources to come!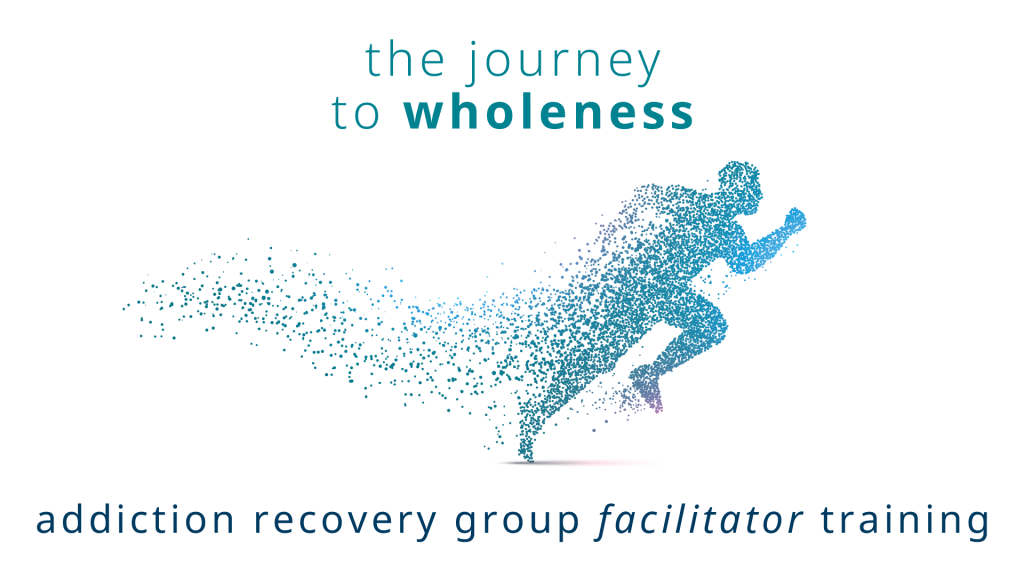 11/11/2022 – 11/13/2022
Journey to Wholeness Facilitator Training
Berrien Springs, Michigan
health@nadadventist.org
Visit
As a Facilitator for the Journey to Wholeness (JTW) program, you will be empowered with the skills, understanding, and compassion needed to help individuals who are walking the path to freedom from addictions, hurts, habits, and hangups.  Whatever your current level of understanding about addictions, we welcome you to join this group.
Join us for our next live training, November 12-13, 2022.  This fulfills a portion of the 3-part training to become a JTW Facilitator.
A special strategic planning meeting will be held Friday, November 11 and is open to any of our previous graduates and partners of ARMin.
Registration coming soon.
Attendees must attend all sessions in order to receive the certificate. Please make your own lodging and transportation arrangements.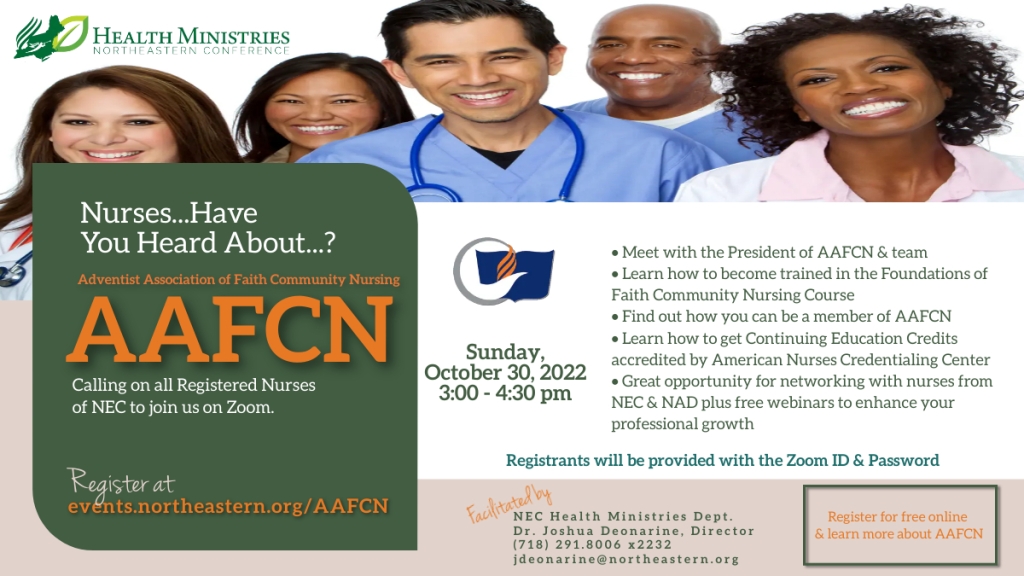 10/30/2022
Nurses – Have You Heard about AAFCN
This event is scheduled to provide nurses in the Northeastern Conference of Seventh-day Adventists with the opportunity to obtain information related to the Adventist Association of Faith Community Nursing.  Nurses will:
Meet with the President of AAFCN and team;
To learn how to become trained in the Foundations of Faith Community Nursing Course;
Find out how to become a member of AAFCN;
How to get American Nursing Credentialing Center credits when participating in  education
offerings by AAFCN;
Be provided with information related to networking and support will be discussed
This free event starts at 3:00pm to 4:30pm via Zoom.  You must register in advance in order to attend (see website link above).
This event is sponsored by the Northeastern Conference Health Ministry.
10/23/2022
WEBINAR: Breaking Down Resistance to Change
While clients coming for coaching are coming because they want to change, there can be seen and unseen resistance that holds the client back. In this 2-hour workshop, we will explore why clients are resistant and why that is a GOOD THING, and how to use that to the client's advance! We will be exploring this resistance mostly from a positive lifestyle goal-setting perspective but there are similar tools for healthy thinking and emotional coping skills as well we will talk about briefly.
Here you will: Find out how you can best motivate a client, and when attempting to motivate a client is not in their best interest and can have the opposite effect.
Time: 3 pm PT/ 4 pm MT/ 6 pm ET
Free to AAHWC members, $50 for non-members
09/24/2022 – 09/24/2022
Friends Collective – Free Eye Clinic
Beltsville, Maryland
Cheryl Sonceau
301-675-0857
csonceau@gmail.com
Visit
This event has been scheduled provide needed health care services to under insured or no insurance at all.  Living our faith by doing for others.
Sponsored by Friends Collective and Beltsville SDA Church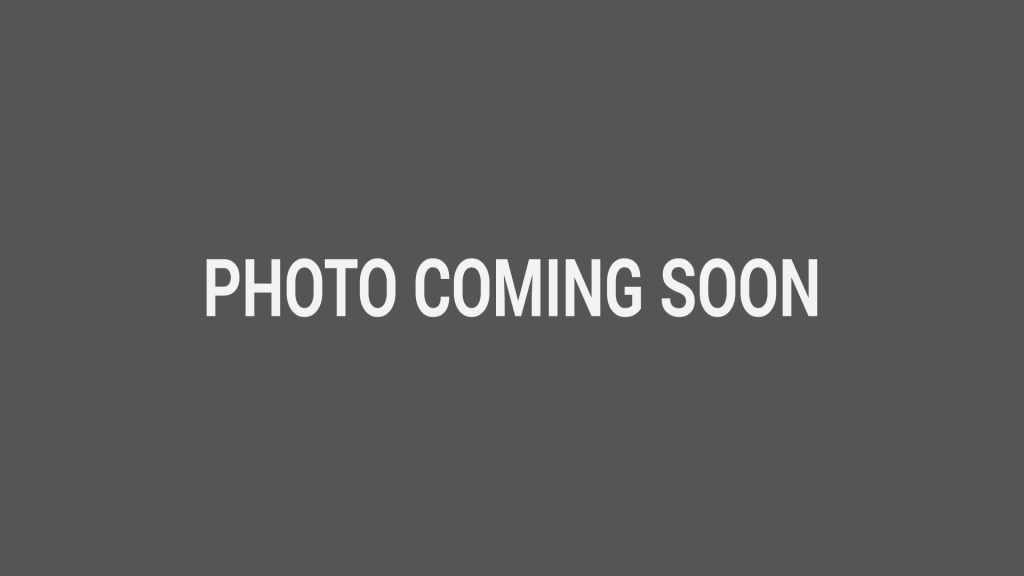 09/13/2022 – 09/13/2022
Fraud and Abuse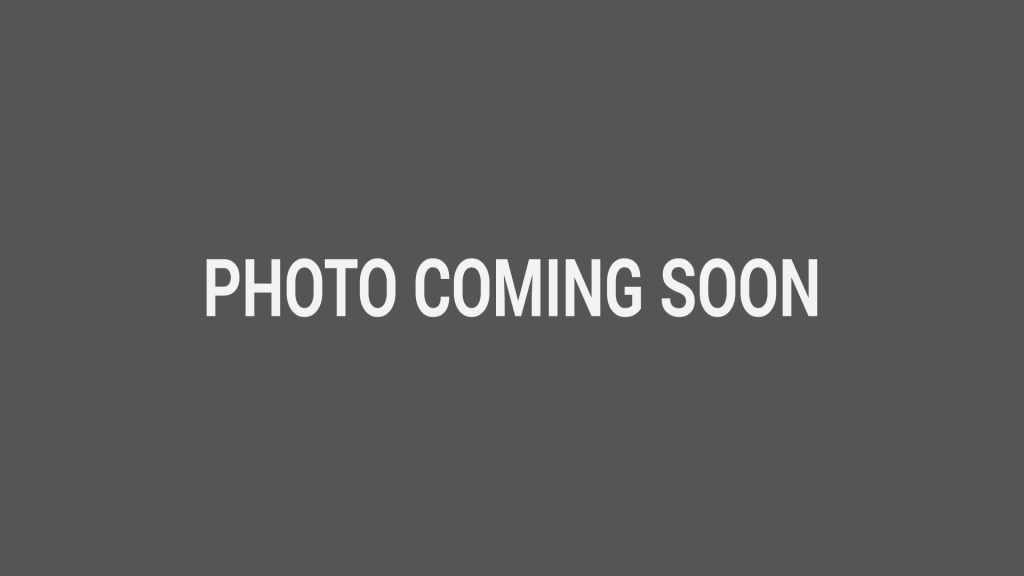 08/26/2022 – 08/27/2022
Virtual Mental Health Emphasis Weekend
Marjorie Belizaire
240-856-6410
marjoriebelizaire@nadadventist.org
Visit
This is a virtual mental  health weekend. We will have a spiritual weekend and hear remarks from professionals in the field to let them know that mental health is an important dimension of health and that it also is an important component affecting the other dimensions of health.  There will be a Q&A session for attendees to interact directly with the professionals. Ultimately, we want them to know that Don't worry–help is on the way with Jesus!!!
Program begins Friday evening, August 26, and continues through Sabbath afternoon, August 27.
Sponsored by the Arkansas-Louisiana Conference of Seventh-day Adventists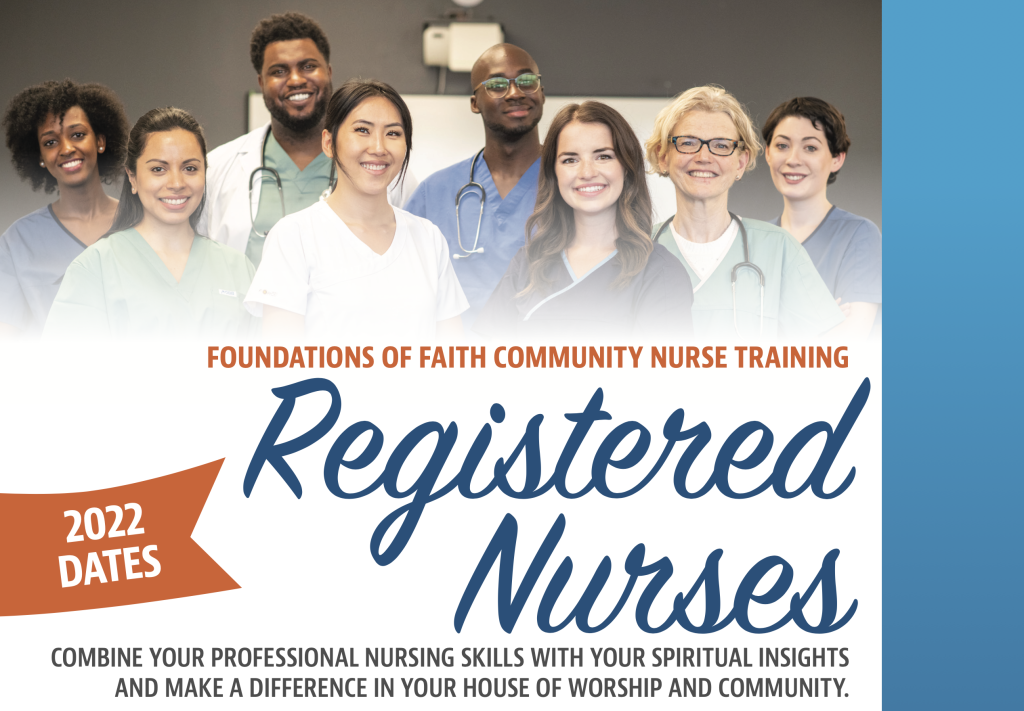 08/08/2022 – 09/18/2022
Foundations of Faith Community Nursing Course
Joan Payne
315-430-1378
jpayne003@twcny.rr.com
Visit
Dates:  August 8 – September 18, 2022
Time: Varies.  Visit the Foundations Course page for details
Format:  Online/Virtual through Zoom
Cost:  $335 per person
Faith Community Nurses (FCNs) provide intentional care to the physical, mental, emotional, and spiritual needs of individuals and communities. This five-week virtual/online course utilizes the 2019 Foundations of Faith Community Nursing curriculum to help nurses of any faith or spiritual community to provide information to promote wellness, healing, health promotion, and disease prevention and lifestyle management.
This course will meet on Sunday and Wednesday evenings for a total of 40.5 contact hours.  Students must attend all sessions in order to receive credit for completion.  Visit the Foundations Course page for more information.