Live Training
Our next live training is scheduled for October 2 & 3, 2021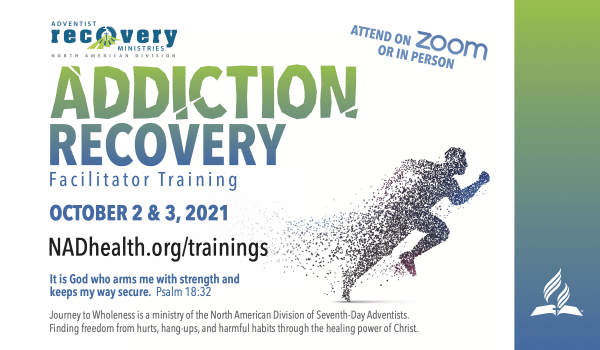 Location
Attend virtually on ZOOM.
The link will be emailed to registered attendees.
Description
The Journey to Wholeness (JTW) program was developed by the North American Division of Seventh-day Adventists to provide a safe environment for individuals recovering from addictions. These "Recovery Groups" follow the 12 Steps to recovery, as modified from Alcoholics Anonymous, through an Adventist & Christian approach. Facilitator training is key to successfully running the JTW program. You will learn from professionals working in addiction recovery as well as lay members who have integrated this program in their church and community.
Objectives
To recognize the role of the church in supporting the recovery process for individuals and communities
To gain skills in conducting a successful 12-step, Journey to Wholeness, recovery program
To plan for the start of a Journey to Wholeness group in a local church or community
Note:  You must attend all required sessions of the live course in order to receive the Facilitator certificate.  If attending via Zoom, you must be on a computer or laptop with your camera turned on at all times and microphone available.  This is an interactive class, so please come prepared to be part of the conversation.
Register
Course Packet includes:
Facilitator's Guide and 1 set of Participant's Handbooks
Training handouts
Other resources
Please note: Registration closes September 20.  Your registration packet will be mailed to you (both in-person and Zoom attendees).  We cannot guarantee on-time delivery of course packet after this date.  Registration does not include travel or housing – please make your own arrangements if needed.
Cost:  $125 per person
Refresher
If you have previously gone through the Journey to Wholeness Facilitator training by the North American Division, you may be eligible to take this at a discounted rate of $45 USD.  Please contact us for details.
Note:  Please have the JTW material with you during the training.  If you no longer have them, please register at the full price to have them sent to you again.
Sponsorship
The Pacific Union Conference is offering a partial scholarship for in-person attendees, and members of the Pacific Union.  Cost of training will be $99.  Please contact us for details.
Course Outline & Schedule
Friday, October 1
Time (Pacific Time Zone)
Event (In-person and via Zoom)
7:30 pm
Prayer and Praise Vespers

A time to prepare our hearts for the training by worshipping God through hymns and contemporary music, prayer and fellowship
Sabbath, October 2
| Pacific Time Zone | Eastern Time Zone | Event (via Zoom) |
| --- | --- | --- |
| 11:00 am | 2:00 pm | Church Service at Vallejo Drive (optional) |
| | | Break |
| 1:00 pm | 4:00 pm | Training Begins |
| 3:00 pm | 6:00 pm | Break (15 min) |
| 3:15 pm | 6:15 pm | Training Resumes |
| 5:30 pm | 8:30 pm | Training Ends |
Sunday, October 3
| Pacific Time Zone | Eastern Time Zone | Event (via Zoom) |
| --- | --- | --- |
| 10:00 am | 1:00 pm | Training Resumes |
| 5:00 pm | 8:00 pm | Training Concludes |
Note:  We will have 4 breaks on Sunday, 15 minutes each.  Please feel free to eat your meals during class.  We will need you to keep your camera on during class time, except when eating.
Special Notes
Please complete Modules 1 and 2 of the Every Step Counts course prior to attending this live course.
You may also begin attendance at The Twelve support group meetings once you begin the online course or after completion of the live course.