Ministry Has A Purpose
As we face the unknown in the current context of a pandemic, we are also faced with questions about how health ministry can impact lives for good and for eternity.  Through the Ministry Goals series, we will consider real issues that are facing society, and how we as a church can be the agents of positive change by sharing hope and wholeness through the healing power of Christ.
Upcoming Meeting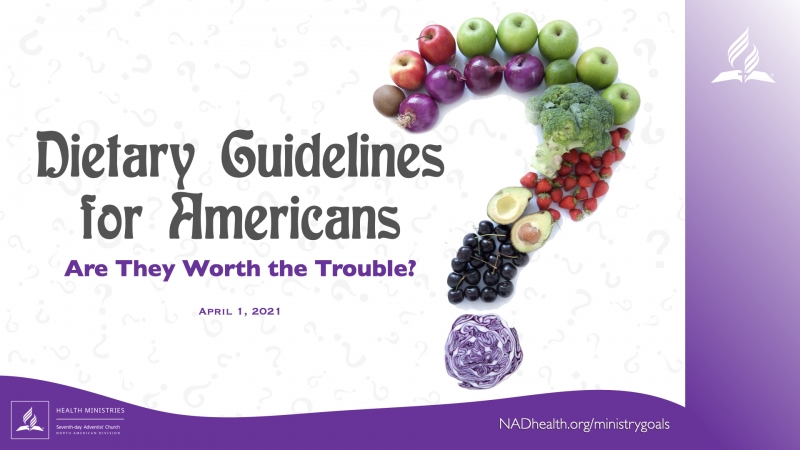 Date:  Thursday, April 1, 2021
Time:  4:00 – 5:30 pm, EST
Dietary Guidelines for Americans – Are They Worth the Trouble?
Every five years the United States releases Dietary Guidelines for Americans for the purpose of promoting health and preventing disease.  But is there value in this process?  Don't we already know enough about nutrition?  In this webinar we will learn about the process involved, what the Guidelines mean, and how they can be beneficial for ministry.
Presenters:
Dr. Joan Sabaté, MD, DrPH, Loma Linda University School of Public Health
Margarete Collins, MPH, RDN, CDCES, DipACLM
Join the Call
Click below to register.  You will then receive an email from Zoom with your personal link to join the webinar.  Be sure to keep track of that email!
Archives
View previous editions of the seminar series by clicking the links below.
Dietary Guidelines for Americans Are They Worth the Trouble? Every five years the United States releases Dietary Guidelines for [...]
Preserving Hope An Introduction to Suicide Prevention Join us as we explore the growing concern of suicide and discuss [...]
The COVID-19 Vaccines Sorting Through Facts, Sharing Our Mission There's no doubt that a vaccine has been much anticipated [...]
Trauma And the Sanctuary Creating an Environment of Support for Traumatized Individuals in Faith Based Organizations Trauma is an [...]
Civic Engagement A Christian Response Heightened partisanship has made many wary of political engagement. Others feel disenfranchised due to [...]
Caring For the Elderly Ministering to A High Risk Population In the COVID-19 Era COVID-19 has uncovered and exploited [...]
Recovery for Emotional Trauma Finding Healing in the Midst of COVID-19 & Racial Tensions The past few months have [...]
A Child's Plight Finding Safety for Children During the COVID-19 Pandemic Child abuse is expected to intensify during the [...]
Health Disparities Ministering To the Afflicted Health disparities have long existed in all societies, and have become all the [...]